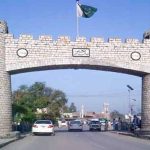 KARACHI: Police apprehended on Sunday FixIt campaigner Alamgir Khan following a clash between FixIt volunteers and Pakistan Peoples Party workers in Karachi.
PPP and FixIt workers clashed at Karachi's Teen Talwar Sunday evening.
A protest was called by the FixIt workers outside Local Government Minister Saeed Ghani's office at Teen Talwar. The PPP workers gathered ahead of time and both groups clashed.
The PPP workers were seen carrying batons, but no weapons were seen in their hands as claimed by the FixIt head.
The police had to intervene in the fight and some were also injured. The situation was brought under control after multiple arrests.
The police also apprehended the FixIt head and whisked him to Darakhshan police station.
Prior to his arrest, Khan said that FixIt campaigners were staging a demonstration against water and sewerage issues.
He alleged that the ones involved in violence were PPP supporters. "They were also the ones clashing with the police."
Sindh Minister for Local Bodies Saeed Ghani rebuked FixIt campaigners, saying that "there are ways to record protest".
"They drew pictures on manhole covers, they stage cheap protests," the minister complained.