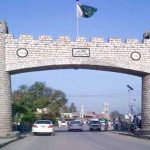 ISLAMABAD: The nation is celebrating the 70th Independence Day with great zeal and fervour with the commemorative ceremonies being held all over the country.
The main event of the day is currently underway at the Convention Centre Islamabad where President Mamnoon Hussain hoisted the Pakistani flag. Prime Minister Shahid Khaqan Abbasi, chief guest Chinese Vice Premier Wang Yang and all three chiefs of the armed services are also present on the occasion.
While addressing the ceremony, Chinese Vice Prime Minister said that peaceful Pakistani nation is on the path of development. He praised Pakistan's hard work and asserted that the country made strong efforts in strengthening its sovereignty and defense.
"Today Pakistan is included in 50 international economic powers," he said.
The day dawned with 31-gun salute in the federal capital and 21-gun salute in the provincial capitals. Flag hoisting ceremonies were also held in provincial capitals and district headquarters whereas change of guard ceremonies were held at Mazar-i-Quaid and Mazar-i-Iqbal.
Special prayers were offered for the prosperity' integrity and solidarity of the country' unity of the Muslim Ummah and for the success of the long drawn struggle of the Kashmiris after Fajr prayers.