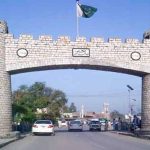 TEHRAN: Iran's state media say heavy rains triggered flash floods that killed 11 people in a mountainous area in the country's north.
State television says authorities fear more casualties from the Sunday evening floods in the provinces of Tehran, Alborz and Qazvin. It says a Chinese national was among those killed.
The official Islamic Republic News Agency (IRNA) on Monday quoted local officials as saying two women were among those killed and that at least 20 cars were swept away by the water, many with people inside them, including one with a just-married couple.
The area has been without electricity and rescue workers are still working, despite heavy rains overnight.
Authorities attribute the rising number of deadly flash floods in this part of the country to improper construction near river beds and deforestation.– Agencies