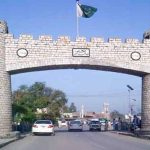 QUETTA: Followed by heavy rainfall, a flash flood in Balochistan's hilly area of Shah Noorani swept away at least nine people, including two children on Thursday.
The rain made the region inaccessible for rescue teams who tried to access the site to make rescue efforts. Nine bodies have been recovered so far, including two minors.
According to initial reports, residents of the area were not able to evacuate in time before the flood hit the capital city of Khuzdar District of central Balochistan.
Further, a recent study suggested that as many as 2.7 million people could be affected yearly by river-floods in Pakistan by 2030; while the number of people globally affected by the floods every year could reach 54 million.
Currently, an estimated 715,000 people in Pakistan are affected by the floods every year. Last year, nearly a million people were affected by the floods.