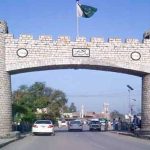 SWAT: A number of hotels, restaurants and roads have been washed away in the Swat valley due to flashfloods.
The Chief Minister Mahmood Khan has directed the Relief, Rehabilitation and Settlement Department to carry out war-footing relief activities in the calamity-hit areas of the district as videos shared from Swat show horrifying visuals, including entire houses swept away by floods.
In Kalam, a well-known hotel was completely swept and the scenes were recorded on a camera.
In a video that has gone viral, it could be seen that the iconic Honey Moon Hotel begins to crumble as water flow increases, and then the red multi-storey structure is washed away.
In the video, people can be heard shouting, "Astaghfirullah, Astaghfirullah, Allahu Akbar, Allahu Akbar," as the building collapses within seconds.
ریسکیو1122 سوات / امدادی سرگرمیاں

مٹہ کورے کے مقام پر ایک شخص کو سیلابی ریلی سے بچایا گیا اور فوری طبی امداد فراہم کر دی گئی

ریسکیو1122 اہلکاروں نے 110 سے زائد گھروں سے پانی کو نکالا جبکہ سیلابی ریلیوں میں پھنسے 980 سے زائد افراد کو بھی محفوظ مقامات پر منتقل کر دیا گیا pic.twitter.com/otBUXpQzi3

— KP_Rescue1122 (@KPRescue1122) August 26, 2022
The destruction of another multi-storey was also captured on camera.
Tourists stranded
A number of local tourists have reportedly been stranded in Swat valley during flash floods.
The provincial authorities are facing difficulty in rescuing affected families from hill stations of upper Swat.
The Khyber Pakhtunkhwa government has imposed an emergency in Swat after the scale of devastation caused by extreme flooding in the district grew out of control following record rains.
The state of emergency will be in effect until August 30 for relief efforts in flood-affected areas of Swat, said a notification issued by the KP relief department.