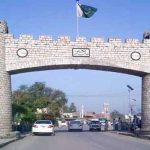 ISLAMABAD: Foreign Minister Shah Mehmood Qureshi has cancellled his three-day visit to Japan that he was to undertake between Feb 24 and 27.
According to sources, the foreign minister was to leave for Japan on Sunday but the visit was cancelled.
They said the decision was taken after consultation with Japanese officials.
Shah Mehmood Qureshi was scheduled to meet Japan's Prime Minister and other top level officials during his visit.
The sources said new dates for the visit would be announced later.