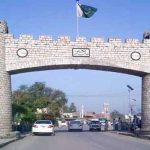 LONDON: Foreign Minister Shah Mehmood Qureshi denounced the Indian tactics for attempting to hinder the conference and the ongoing crackdown against Hurriyat leaders for suppressing their freedom movement.
He spoke to the media and asserted that despite political polarisation in Pakistan, the country's political parties were united on the issue of Kashmir and that Pakistan gave concrete message to the media and to the House of Commons.
"Both the Conservative and Labour Party's representatives, as well as liberal democrats were there. The session went on for two hours in pin-drop silence and in front of a capacity audience," he said, adding "Everyone heard (each other's) views and participated (in the debate) but above all, at the end — and even I was not expecting this — Lord Qurban, representing the British Parliament, tabled a resolution and it was read out.
"This is such a massive development, and a victory for Pakistan. This is a victory for those innocent Kashmiris whose cries were heard and felt in the House of Commons today. This issue has reached the centre stage by the grace of God.
"You also must have seen that some Indian people first tried to get this conference stopped, pressurised the members and the government, and after that some 15 to 20 people protested as well," he said.
"I told them that 'go on' as protesting is their right. You can chant your slogans against us but stop the bullets and the use of pellet guns there."
Supported by the evidence in the reports of the UK Parliament's All-Party Parliamentary Kashmir Group (APPKG) regarding Indian atrocities in Kashmir, Qureshi reaffirmed Pakistan's commitment to support Kashmiris in their struggle for the right of self-determination.