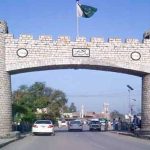 ISLAMABAD: Foreign Minister Shah Mehmood Qureshi on Saturday met his Afghan counterpart to discuss bilateral relations, Afghan peace process and regional security.
As per details, Qureshi welcomed Foreign Minister of Afghanistan Salahuddin Rabbani in Pakistan where he will also attend Pakistan,China, Afghanistan trilateral talks.
FM Qureshi said Pakistan and Afghanistan share bilateral relations based on religious, political and cultural grounds. He said regional peace is inevitable for peace in Afghanistan and PM Imran had a desire to keep friendly relations with every neighboring country.
He said world has accepted our stance on Afghanistan issue and after 17 years the issue is going to be solved with efforts from Pakistan. He said President Ashraf Ghani's June 27 visit paved way for good relations and both countries agreed to move forward with appositive approach.
He said we have to take care of peace process till its completion. Both leaders agreed on joint efforts to eliminate terrorism and on matters of mutual interest.