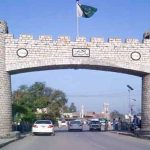 KABUL: Pakistan Foreign Minister Shah Mahmood Qureshi Saturday held meetings with Afghan president and foreign minister during his one-day visit to Kabul.
The foreign minister is accompanied by Foreign Ministry officials including foreign secretary and military officials including DG military operations.
Upon his arrival at the Presidential Palace, Pakistani delegation was was received by Afghan foreign minister Salahuddin Rabbani. Rabbani said that establishing peace was as important for Pakistan as Afghanistan. The Afghan foreign minister said peace in Pakistan and Afghanistan is vital for regional peace. He said his country desires cordial relations with all the neighboring countries including Pakistan.
Pakistan foreign minister said, "Our challenges are similar and we have to deal with them through mutual cooperation". He stressed on focusing on the working groups in Afghanistan to move forward. He further proposed that a meeting between scholars from both sides could be arranged to resolve issues.
Qureshi stressed that both Pakistan and Afghanistan will have to work together to meet the common challenges. He said there is great potential to further bolster relations and cooperation between the two countries.
Later, Qureshi also met President Ashraf Ghani. The two dignitaries discussed diplomatic ties between the two countries. Matters including bilateral trade matters, closure of the Pakistan Consulate General in Jalalabad due to a security crisis, terrorism, and border management were discussed during the meeting.
Qureshi said he had finalised a few things with the Afghan president, chief executive and foreign minister. The minister said that President Ashraf Ghani and Chief Executive Abdullah Abdullah will visit Pakistan in October.
Following his meeting with Chief Executive Abdullah, the foreign minister said the Afghan economic commission will be visiting next month and the next round of talks between the two countries would also be held in October.
He noted that if Pakistan and Afghanistan had to extend their economic ties, then the two countries will have to constitute a joint economic commission.
Earlier today, Foreign Office Spokesperson Dr Mohammad Faisal said, "Successful outcome of the visit will lead future efforts to enhance bilateral cooperation under bilateral frameworks of cooperation including Afghanistan-Pakistan Action Plan for Peace and Solidarity (APAPPS), Afghanistan Pakistan Transit Trade Coordination Authority (APTTCA), Pak-Afghan Joint Economic Commission (JEC) etc."
Furthermore, Dr Faisal said Qureshi's first foreign visit after assuming office underlines the importance that the government attaches to work closely with Afghanistan for regional peace and stability.
The foreign minister had expressed the wish to visit Afghanistan after assuming office. Afghan Foreign Minister Salahuddin Rabbani extended an invitation to Qureshi to visit Kabul at an early date.