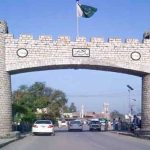 NEW YORK: Foreign Minister, Shah Mehmood Qureshi has stressed for more betterment in bilateral ties with the UK.
Shah Mehmood Qureshi met his Britain Counterpart, Jereme Hunt on the sideline of UNGA Session.
During the meeting, FM stressed to enhance cooperation in political, security and defence, trade and investment, education and development spheres. FM Qureshi Meets Saudi Counterpart, EU Envoy Earlier, Foreign Minister Shah Mahmood Qureshi met with Saudi Minister of Foreign Minister Adel bin Ahmad Al-Jubeir and a representative of the European Union (EU) for foreign affairs and security policy on the sidelines of United Nations General Assembly session in New York on Wednesday.
According to the details, Foreign Minister Shah Mahmood Qureshi met with his Saudi counterpart Adel bin Ahmad Al-Jubeir and discussed matters of mutual interest.
Both reiterated their desire to work closely for enhancing bilateral trade, business and investment relations, said Foreign Office spokesperson Dr Mohammad Faisal.
The FO spokesperson said that Shah Mahmood Qureshi and Adel bin Ahmad Al-Jubeir agreed to convene the next round of bilateral political consultations at an early date.
Whereas Shah Mahmood Qureshi also met with the representative of the European Union for Foreign Affairs and Security Policy Federica Maria Mogherini. Trade, investment, security and other issues were came under discussion in the meeting, said sources.Earlier on September 26, Foreign Minister Shah Mehmood Qureshi said that Pakistan had not wish for the tensions to exacerbate with India.
While speaking to Indian media in New York, Qureshi commented that Pakistan desired peace and, therefore, wants improvements in the bilateral ties.