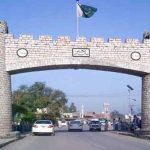 ISLAMABAD: The Pakistan Foreign Office on Wednesday strongly condemned the killing of a Chinese citizen in Karachi and vowed to bring the culprits under the fold of law.
Chen Zhu, 45, was shot dead in a suspected targeted attack in Karachi's Defence locality by an unknown assailant on Monday. The Chinese national was in his car when at least 10 shots were fired at him. He suffered bullet wounds to his head, according to police.
"We are deeply saddened at the death of Chinese national Mr. Chen Zhu in Karachi on 5 Feb & condemn his killing in strongest possible terms," FO spokesperson Dr Mohammad Faisal tweeted.
"Pakistan will take all possible measures to apprehend the culprits and carry out thorough investigation against perpetrators of the crime," he added.
Chen Zhu was the Managing Director of Cosco Saeed Karachi Shipping Pvt Ltd.
China condemned the apparent targeted-killing following the incident.
"We strongly condemn the extremist and violent action against Chinese citizens and will continue to closely monitor the progress of the case and provide active assistance to the families of the victims in dealing with the aftermath," said spokesperson Geng Shuang of the Chinese Foreign Ministry.
The spokesperson added that the Chinese consulate general has demanded the police to do their "utmost to solve the case and bring the murderers to justice as soon as possible".
China has noticed that in recent years, the Pakistani government has taken a series of anti-terrorism and social security governance actions, said Shuang when asked if the country worries about the safety of Chinese citizens in Pakistan.
"We support the Pakistani side's continuous efforts to promote relevant actions and safeguard domestic security and stability".
The foreign ministry's spokesperson expressed hope that Pakistan will continue to take measures to guarantee the security of Chinese institutions and personnel in the country.