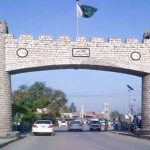 ISLAMABAD: Pakistan Foreign Office Spokesman on Thursday confirmed that Pakistani diplomats and their staff will have to seek the United States' government's permission if they want to travel outside a jurisdiction of 40km from their consulate.
The restrictions by the United States government will come into effect from tomorrow. The news was confirmed by the Foreign Office Spokesperson Dr Faisal.
If the diplomats or their staff want to travel outside the 40km jurisdiction from their consulate, they will have to seek permission from the American government.
The decision will most likely further strain ties between the two countries who were once close allies in the War on Terror.