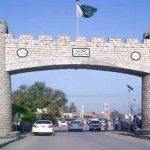 ISLAMABAD: The Foreign Office (FO) on Wednesday rejected the claims made by Kabul regarding the alleged clashes between Pakistani and Afghan security forces along the border area.
Following the reports of suspected clashes circulating on Afghan media, the Pakistan Embassy in Kabul also rubbished the claims about any clashes taking place between the two forces, and Pakistan Army allegedly crossing the Durand Line over to Afghanistan.
Unverified reports started circulating on Wednesday over various Afghan media outlets, alleging that a number of Pakistan soldiers ─ seven in some places and 12 in others ─ lost their lives in clashes with Afghan forces and that one Afghan police official was also injured.
Furthermore, the Afghan news outlets alleged that Pakistani forces had crossed the Durand Line into Paktia province, a claim rubbished by the Pakistan Embassy in Kabul. "Pakistan respects the sovereignty and territorial integrity of Afghanistan," said the embassy.
There has been little change in Kabul's acrimonious tone towards Pakistan despite its Interior Minister Wais Ahmad Barmak and National Directorate of Security (NDS) chief Masoom Stanekzai's visit to Islamabad on January 31, with a 'personal message' from President Ashraf Ghani.
During the meeting, both sides agreed to cooperate in the investigation into a series of deadly attacks that rattled Kabul, a couple of which were claimed by the Taliban.
In a televised speech last month, President Ghani said: "Pakistan is the headquarters of the Taliban. The time has come for them now to take action."
The Foreign Office, however, rejected the allegations, saying Pakistan has been taking action against all terrorist groups in its territory.
Pakistan has reiterated that instead of blame game both sides should engage in concrete cooperation. It has also emphasised the need for strengthening border management on the Afghan side.