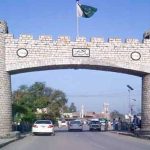 PESHAWAR: Khyber Pakhtunkhwa Governor Shah Farman said on Saturday that the terror attacks in Karachi and Orakzai tribal district yesterday "are part of the same conspiracy" and that "foreign elements are involved who want to destabilise the China-Pak Economic Corridor (CPEC) project".
The governor along with Corps Commander Lt Gen Shaheen Mazhar and Inspector General Frontier Corps Maj Gen Rahat Naseem Ahmed visited the site of the blast in lower Orakzai district which claimed 34 lives.
The explosion, which according to officials was a suicide bombing, took place near an imambargah on Friday morning.
While talking to reporters, Governor Farman said stern action would be taken against the culprits behind the attack.
Lt Gen Mazhar confirmed that the blast was a suicide attack and that 12 kilogrammes of explosives had been used.
The lower Orakzai area, formerly an agency, is situated near the Hangu district, and the explosion took place in main Kalaya bazaar of the district.
Prime Minister Imran Khan had "strongly condemned" the terrorist attack in Orakzai as well as the one foiled on the Chinese Consulate in Karachi.
He labelled the twin attacks "a planned campaign to create unrest in the country by those who do not want Pakistan to prosper".
"Let there be no doubt in anyone's mind that we will crush the terrorists, whatever it takes," he had affirmed on Twitter soon after the attacks.