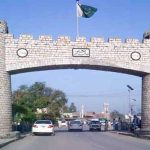 ISLAMABAD: Thousands of supporters flocked to the federal capital to attend Prime Minister Imran Khan's rally as his fate hangs in the National Assembly.
In his two-hour-long marathon speech at a sparkly, booming show in Islamabad – a cradle of his political movement from the 'container days' –  the prime minister's appearance seemed to be a fiery effort to lean into the definitive agenda points of Pakistan Tehreek-e-Insaf.
Prime Minister Imran Khan revealed that "foreign elements" are involved in the attempts to topple his government and said, "some of our own people" are being used in this regard.
The premier was speaking during one of the "biggest" rallies in his party's history at the Parade Ground in Islamabad as the Opposition has geared up to oust the premier from office through the no-confidence motion.
The premier, while flashing a letter before the public, said that he has "written evidence" that "money has been pouring in from abroad," while "some of our people are being used to topple the government."
He said that for months, "plotting and planning is being carried out to influence the foreign policy of Pakistan from outside."
He said that the government has "evidence" of foreign hands in Pakistan's matter but refrained from giving too much information, saying that since he "cares for the security and interest of the country, he was not at liberty to share further details".
Referring to the PPP and PML-N, he said that ever since the two political families came to power, the country has lagged behind in all domains.
"I have been struggling against them for the last 25 years and I never fight for so long for personal interests," he said.
A few days ago, the premier had said that he would "surprise" the Opposition a day before the no-confidence motion session, adding that he is yet to lay his cards on the table.