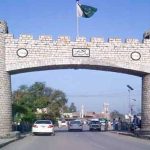 PESHAWAR: Foreign journalists at the Bacha Khan International Airport were misbehaved and harassed by the staff on Wednesday.
As per details, the foreign journalists- Nargiz Mahmudzade from Azerbaijan and Ram Prakash from Sri Lanka- were travelled to Pakistan to attend the Khyber Pakhtunkhwa Culture and Tourism Authority's International Peace and Sports Conference.
On their departure on Wednesday, they were stopped by the personnel of the airport security and were insulted during the body search process at the airport. After making them wait for quite longer, they missed their flights.
Reacting to the unfortunate incident, Khyber Union of Journalists staged a protest demonstration demanding action against the Anti-Narcotics Force (ANF) and airport security.
In a statement, Khyber Union of Journalists President Nasir Hussain and General Secretary Imran Yousafzai said that the main purpose of holding the International Peace and Sports Conference in Peshawar for the first time was to show the positive face of Peshawar and Pakistan to the world. However, some foreign journalists, on their return after attending the megaevent, were ill-treated at the Peshawar airport.
The Anti-Narcotics Force (ANF) personnel shifted the blame for the whole saga to the Airport Security Force (ASF) staff. ANF officials clarified that they did not carry out the body search, rather it was ANF lady officer who performed the search