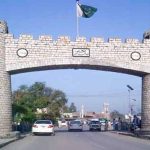 BEIJING: Foreign Minister Khawaja Asif met Chinese State Councilor and his counterpart Wang Yi in Beijing on Monday.
During the meeting, both discussed significant matters of mutual interest.
Asif is in China to attend the meeting of Council of Foreign Ministers of the Shanghai Cooperation Organization (SCO) from April 23-24.
According to a Foreign Office statement, the Council of Foreign Ministers (CFM) will discuss issues related to peace and security at the international and regional level and promotion of cooperation between member states.
The meeting will also finalize the preparations for the forthcoming SCO Heads of State Council in Qingdao.
The SCO is an important forum for global and regional peace and security and promoting mutually beneficial cooperation between member states.
Pakistan joined the organization in June 2017. It has been playing an active, responsible and constructive role in it in line with the Shanghai Spirit which calls for mutual trust and benefit, equality, respect for cultural diversity and pursuit of common development.
The SCO is making remarkable strides in promoting understanding, coordination and cooperation in a wide array of fields. Pakistan would continue to play our role in meeting the objectives of SCO, the statement said.