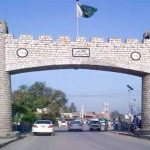 ISLAMABAD: Saudi Arabian and United Arab Emirates (UAE) foreign ministers have arrived in Islamabad on Wednesday on one day official visit.
Foreign Minister Shah Mahmood Qureshi welcomed the visiting dignitaries upon their arrival.
During the visit, Saudi Minister of State for Foreign Affairs Adel bin Ahmed al-Jubeir and Minister of Foreign Affairs and International Cooperation of the United Arab Emirates Sheikh Abdullah bin Zayed bin Sultan Al Nahyan will meet Prime Minister Imran Khan, Foreign Minister Shah Mehmood Qureshi and Chief of Army Staff (COAS) General Qamar Javed Bajwa.
Bilateral ties between Pakistan and Saudi Arabia, and regional developments will be discussed in the meetings.
The Saudi foreign minister's visit to Pakistan had been announced after his meeting with Pakistan's Ambassador to Saudi Arabia Raja Ejaz in Riyadh on Sunday.
Earlier, Imran Khan made a telephonic contact with Saudi Arabia's Crown Prince Mohammed bin Salman and apprised him on the present circumstances in India-occupied Kashmir (IoK).
Let it be known that this was the third telephonic contact between Imran Khan and Mohammed bin Salman in two weeks.