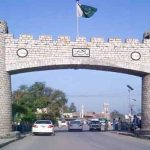 ISLAMABAD: The Foreign Office said Afghan officials confirmed that body of martyred Superintendent of Police (SP) Tahir Dawar was found and Pakistan's embassy in Kabul had been informed.
Spokesman of the Foreign Office said the Afghan Ministry of Foreign Affairs informed Pakistan's embassy in Kabul that Tahir Dawar's body and service card were found in Dur Baba district of Nangarhar province.
Dead body of martyred Tahir Dawar would be handed over to Pakistan's embassy in Kabul and then be shifted to Pakistan via Torkham border, the spokesman said.
He added that Pakistani authorities were in close contact with the Afghan Embassy while the Pakistan Embassy in Kabul was also in touch with the Afghan Foreign Ministry.