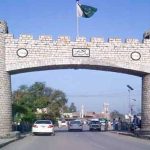 ISLAMABAD: Police and officials of other agencies on Wednesday raided the house of former Punjab chief minister Chaudhry Pervaiz Elahi in Gujrat.
A large police contingent raided the former chief minister's house in early hours of Wednesday. Dozens of police vehicles and hundreds of officials besieged Elahi's Kanjahri's House in Gujrat.
Reportedly, police also detained the security guards of the house.
The law personnel sneaked into the house by putting up a ladder but left after searching it as there was no member of the Chaudhry clan in the house. Ch Pervaiz Elahi is in Lahore.
Police and Elite Force vehicles kept patrolling around the house.
Police have not confirmed the incident yet.
However, Elahi confirmed the raid saying that his house was raided and his employees were harassed by police.
The former chief minister said that he was not informed about the raid. He vowed to take legal action against it.