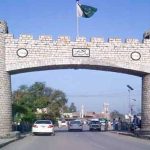 Federal Investigation Agency's (FIA) former director general Bashir Memon has alleged that during his tenure, he was summoned to the "Highest Office"  and was told to file a terrorism case against members of PML-N Vice President Maryam Nawaz's social media cell after a picture of the first lady was circulated on social media.
In an interview with a famous journalist He said: "There was a picture on social media, regarding which they [said] that a terrorism case should be filed. It was a picture of the first lady [uploaded] on social media. How is this terrorism? There is a definition of terrorism in law. It was a normal picture, how was that terrorism?"
When asked who told him to file a terrorism case, Memon said that he was summoned by the "highest office in Pakistan". The Journalist asked if Prime Minister Imran Khan had attended the meeting Memon was summoned for but the former DG refused to take names. "I said the highest office," he reiterated.
He added that the government's "expectations" which it had from the FIA "are being fulfilled". In response to a question, Memon said that the government expected the FIA to "do exactly what NAB (National Accountability Bureau) has done".
He also said that the authorities wanted FIA to pursue corruption cases against PML-N President Shehbaz Sharif, his sons and his entire family including his relatives.
When asked why he refused to pursue those cases, he said: "There were two reasons. One, I didn't have the inquiries. Second, this was the mandate of the provincial anti-corruption [unit]." He recalled that he was sent to Lahore where a meeting was convened by Punjab chief secretary Akbar Durrani and attended by all secretaries as well. Memon added that he was provided with the record of the case he had been asked to take up.
Memon said that the premier had criticised him for not pursuing cases against PML-N supremo Nawaz Sharif's family.
He also talked about a "peculiar case" against PML-N leader Khawaja Asif, in which it was alleged that the latter was working for a company in Dubai while he was defense and foreign minister. The former FIA official said that it was suggested that a treason case against Asif should be lodged over the allegation.