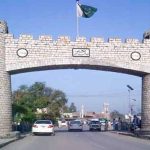 ISLAMABAD: Ghulam Mustafa Khar, a former governor and chief minister of Punjab, announced his decision to Pakistan Tehreek-e-Insaf (PTI) on Monday.
Ghulam Mustafa Khar made the announcement after meeting Imran Khan at his party's secretariat in Islamabad.
The veteran politician belongs to Kot Addu town Muzaffargarh District in South Punjab. He started his political career in 1967 when he joined Zulfikar Ali Bhutto as one of the founding members of the Pakistan Peoples Party as a close personal friend and political ally.
He was appointed Governor and Martial Law Administrator of Punjab, the most electorally powerful province in the country by the newly sworn in President Bhutto following the collapse of Yahya Khan's military government.
Khar has also served as Chief Minister of Punjab Province.