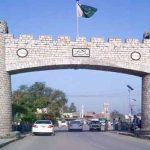 NEW DELHI: Former Indian Foreign Minister Sushma Swaraj passed away after suffering a heart attack in the capital late on Tuesday, according to Indian media.
Swaraj was appointed as India's external affairs minister in 2014.
Swaraj, who was for the Bharatiya Janata Party's most prominent woman face, did not contest the recently held Lok Sabha elections citing health reasons. The party won a massive majority.
Earlier, India media reported that she wsa rushed to the All India Institute of Medical Sciences in New Delhi following a heart attack. She was 67.