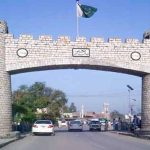 NASIRIYAH: Tareq Aziz, who served as the voice of Saddam Hussein's regime, died in Iraqi hospital Friday aged 79 after many years of poor health as a convicted prisoner, a provincial official said.
"Tareq Aziz died in Hussein Teaching Hospital in the city of Nasiriyah, where he was brought when his health deteriorated," said Adel Abdulhussein al-Dakhili, deputy governor of Dhi Qar province, where the former Iraqi foreign minister was jailed.
Dakhili did not specify what Aziz died from, but he had long been in poor health, suffering from heart and respiratory problems, high blood pressure and diabetes.
His family repeatedly called for his release from custody, and in 2011, his lawyer said Aziz wanted then Iraqi premier Nouri al-Maliki to accelerate his execution due to his worsening health.
Aziz was found guilty of "deliberate murder and crimes against humanity" in the 1980s, and was sentenced to death in October 2010.
He was also handed various prison sentences for other crimes.– Agencies