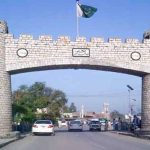 MARDAN: Funeral prayers of Pakistan Peoples Party (PPP) central leader and former speaker Khyber Pakhtunkhwa Assembly Abdul Akbar Khan were offered in Mardan.
Abdul Akbar Khan was laid to rest in his ancestral graveyard in Spenkai area of Katland. The funeral prayers were attended by large number of people from all walks of life including senior political leaders.
Abdul Akbar Khan hailed from Katlang area of Mardan.
Abdul Akbar Khan was born in 1949 and he was facing health issues recently. He was elected member of KP Assembly in 1988, 1990, 1993 and 2008 elections. He was considered close to the PPP late leaders Zulfikar Ali Bhutto and Benazir Bhutto. He was considered specialist in constitutional affairs.