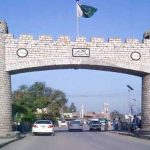 PESHAWAR: Former Health Minister of Khyber Pakhtunkhwa (KP) Hisham Inamullah and former advisor to CM Khyber Pakhtunkhwa Ajmal Wazir have announced parting ways with the Pakistan Tehreek-e-Insaf (PTI) party.
Addressing a press conference in Peshawar Hisham Inamullah said that he did not come into politics for ministerial positions. He emphasized that he can never go against those who have taken an oath to defend the country and that he considers it an insult to be associated with the Pakistan Tehreek-e-Insaf after the events of the May 9.
Hisham Inamullah stated that his resignation is based on his own decision and not due to any pressure from others. He expressed his gratitude for the respect he received from the people of his constituency and stated that he does not want to be associated with traitors.
He mentioned that some elements within the PTI have damaged the dignity of Pakistan. The burning of national heroes' statues and the torching of Jinnah House is condemnable, he said. He also highlighted that Imran Khan and certain individuals within the party have clashed openly with the state and state institutions, which is incorrect.
Similarly, addressing a press conference in Islamabad, former advisor to CM Khyber Pakhtunkhwa Ajmal Wazir also announced to quit the PTI, saying that he could not remain part of the PTI any more after May 9 vandalism. He said that he has not yet decided about his political future.