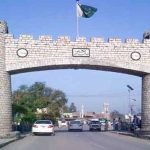 ISLAMABAD: Former lawmaker of Muttahida Qaumi Movement-Pakistan (MQM-P) Rashid Godil has on Sunday joined Pakistan Tehreek-e-Insaf (PTI) on Sunday.
Godil made the announcement during a meeting with PTI Chairperson Imran Khan at his residence here in Banigala in Islamabad.
Imran Khan expressed pleasure over Godil's joining the PTI saying they were glad to have someone from Karachi.
Imran Khan said that PTI wanted to bring change in the city adding that Karachi was the financial hub of Pakistan, which was not prospering.
Earlier, in 2017, Godil decided to distance himself from politics and not to contest next elections owing to security concerns.
Let it be known that in August 2015, Godil along with his driver was shot and injured in Bahadurabad area of Karachi.