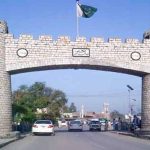 ISLAMABAD: Former prime minister Shahid Khaqan Abbasi on Tuesday appeared before the National Accountability Bureau (NAB), in connection with a probe related to liquefied natural gas (LNG) contract case scam.
NAB is probing a case instituted against Abbasi in 2015 for allegedly awarding a LNG import contract at exorbitant rates, which caused a potential $2 billion loss to the national exchequer.
Talking to newsmen outside the NAB office, Abbasi said he has received answers of few questions through a letter sent to the secretary petroleum, related with the probe.
"I will present the record before the NAB investigation team today", he maintained.
During his last appearance in the NAB on March 26, a team led by NAB's Combined Investigation Team Malik Zubair had quizzed the PML-N leader in the scandal.
Abbasi failed to provide the required documents in the case and sought time from the NAB in this regard.
"Need some time to hand over the documents", Khaqan was quoted as saying to the NAB investigation team.
The NAB had sought details of the assets owned Abbasi in connection with the investigation of the LNG contract.
The former prime minister is accused of misusing his powers during his tenure as petroleum minister. The case was registered on a complaint by Shahid Sattar – an energy expert and former member of the Planning Commission and the SSGC board of directors – on July 29, 2015.