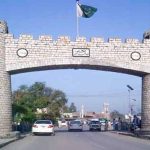 LAHORE: Former Pakistan Tehreek-e-Insaf member and ex-MNA Sardar Kamil Umar and his brothers called on Punjab Chief Minister Muhammad Shahbaz Sharif in Lahore today.
On this occasion, Sardar Kamil Omar and his brothers, Sardar Adil Umar and Sardar Aqil Umar announced to join Pakistan Muslim League (N).
They reposed their confidence in the leadership of PM(N).
Welcoming them, the Chief Minister said the PML-N has always done politics of public service and it has materialized all its promises, made with the people.