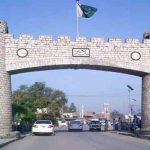 Former PTI MPA Ubaidullah Mayar has accused former KP chief minister Pervez Khattak of fixing the last Senate election in Khyber Pakhtunkhwa. He also confirmed that he and other party lawmakers received bribes from Senate candidates in the 2018 election of the upper house. He was speaking to Media ON Tuesday. In a video aired on Private TV Channels, Mayar, KP Law Minister Sultan Mohammad Khan and others were seen receiving money ahead of the 2018 Senate election. The video has since gone viral in what is seen as yet another scandal concerning the ruling PTI.
"The video that they shared was authentic," Mayar told.  "The detail of the amount was wrong." The former lawmaker claimed that each MPA was given Rs10 million. He said "it was the government's money" and they were delivered the amount at the home of the then KP Assembly speaker. Fida Muhammad Khan, a lesser-known politician from Malakand, gave them the money for their votes, Mayar said. He said that Khattak had recommended his name for the senator's post.
On the other hand Federal Minister for Climate Change Zartaj Gul criticized Mayar for lecturing others on morality after "selling his conscience". Prime Minister Imran Khan expelled him from the party over his corruption, the minister said.