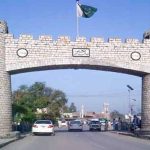 RAWALPINDI: Director General of the Inter-Services Public Relations (ISPR) Major General Asif Ghafoor on Monday said that the former spokesperson of the Tehreek-e-Taliban Pakistan (TTP) and a senior leader of the Jamaat-ul-Ahrar, Ehsanullah Ehsan had surrendered himself in to Pakistan's security forces.
Briefing the media on progress in Operation Radd-ul-Fasaad, DG ISPR Asif Ghafoor said that the people, the state and the institutions of Pakistan have made considerable progress in the betterment of the country's security situation. He said that the progress has reached to the point that the people who have been planning attacks on Pakistan's soil from across the border have started to see the error of their ways. "There can be no bigger achievement for Pakistan than the fact that our biggest enemies are now turning themselves in," he said. "I want to take this opportunity to announce that Ehsanullah Ehsan, the former spokesperson of the TTP and a leader of the Jamaat-ul-Ahrar, has turned himself into our security agencies," he added.
Maj Gen Ghafoor also showed the recorded confessional statement of Naureen Leghari, a medical student from Hyderabad who allegedly fled home to join the militant Islamic State (IS) in Syria.
Leghari was arrested on Friday after her husband, whom she had married after leaving her home and joining the militants, was killed in an encounter in Punjab Housing Society. "The girl went missing from Hyderabad. Later, a message appeared on Facebook in which she said that she had joined the military group," the director general said before he showed the video.
In the video, Leghari denied that she had been kidnapped, saying she made the decision to travel to Lahore on her own. "No one kidnapped me, I went there myself," she said.
"We (my husband and I) were planning terrorist attacks," she added. The plans included suicide attacks and schemes to kidnap intelligence officials.
She returned to Lahore three weeks ago and was being tracked by security personnel. Law enforcement agencies are investigating her as well.