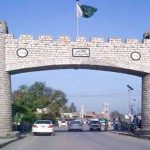 KARACHI: The Counter Terrorism Department (CTD) has apprehended four alleged terrorists belonging to a banned outfit on Friday night.
According to CTD officials, operations were carried out in various areas of the city.
The arrested terrorists were identified as Kamran, Abdul Rauf, Kaiftan, and Irshad — with aliases Huzaifa, Abu Rizwan, Kifayat, and Zakariya, respectively — who were arrested during raids in SITE area and near University Road.
According to CTD, the receipts of chanda (welfare funds) were recovered from the arrested suspects, who have received terrorism-related training in Afghanistan.