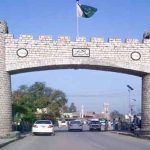 FAISALABAD/ SAHIWAL: As many as four death house inmates have been hanged till their death at the gallows in jails of different Punjab cities early Tuesday morning. Meantime, Shafqat Hussain's hanging has once more been put on hold.
Two condemned assassins, Abid Maqsood and Sanaullah were hanged at gallows in Sialkot's District Jail at today's daybreak. The two criminals took life of a 12-year girl after a sexual assault in 1997.
In Faisalabad also, a convicted killer, Muhammed Abid, breathed his last at the gallows in Cenral Jail. The criminal killed Yasin over a longstanding feud in 1998.
In Sahiwal, a death row prisoner, Nawaz alias Kaka has been executed in Central Jail early this morning. The convict killed a man over a trifling dispute with him in 1995.
As regards the execution of Shafqat Hussain, who killed a child after sexual assault, a European Union delegation called on President Mamnoon Hussain to stop the hanging. Later, the jail sources said the hanging was stopped.
It should be mentioned here that Shafqat was scheduled to be hanged this morning at Karachi's central jail.