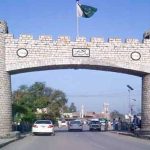 HANGU: At least four of a family died after the roof of a house collapsed due to downpour in Dopki area of Hangu on Sunday.
According to details, the incident claimed the lives of two minors and their parents in Hangu's Dopki vicinity.
A man also sustained injuries in the incident.
Earlier this year, the roof of a textile factory collapsed due to an explosion in the plant's facilities in Faisalabad resulting in three casualties. the pipeline and compressor of a gas generator in the city's textile industrial unit exploded. Five others were wounded in the incident.