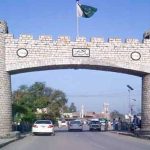 MANDI BAHAUDDIN: At least four people were injured in violence between rival parties during voting for by-elections on the National Assembly's NA-108 constituency in Mandi Bahauddin on Monday.
11 candidates are vying for the seat that fell vacant after the disqualification of Pakistan Tehreek-e-Insaf MNA Ejaz Chaudhry. As many as 289 polling stations have been set up in the constituency where 431,269 registered voters will be able to exercise their right to cast their votes until polling time ends at 5:00 PM.
Mumtaz Ahmed Tarar, Muhammad Tarar, Asif Bashir Bhagat, Hamza Nasir Iqbal and Riaz Farooq Saahi are candidates for, Pakistan Muslim League-Nawaz, Pakistan Tehreek-e-Insaf, the Pakistan People's Party, Pakistan Muslim League-Q, and the Jamaat-e-Islami respectively.
Gunshots injure three in clash between PTI, PML-N workers
A clash took place between Pakistan Tehreek-e-Insaf (PTI) and Pakistan Muslim League – Nawaz (PML-N) workers in village Rakh Baloch in the area of pollling station number 80.
At least three people were reported to have been injured by gunshots fired during the clash.
The violence in Rakh Baloch village followed a similar clash between workers of both parties in the areas of polling stations 133 and 138.
Television footage showed PTI workers attacking a polling station, uprooting tents and breaking furniture outside. Rana Sarfaraz, a former Nazim of the PML-N, was also beaten up during the incident.
Police responded by baton-charging the rioters, and polling was halted at polling stations 133 and 138.