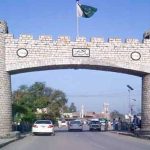 PESHAWAR: Four persons sustained injuries in a gas line blast in Maulvi Jee Hospital of Peshawar on Wednesday.
The blast occured in the kitchen of the administration block where gas was leaking from the pipe and a blast occurred when someone ignited the fire. The injured persons were taken to the Lady Reading Hospital.
The hospital administration said four injured persons were brought to the hospital and two of them are in critical condition. The slightly injured two persons were discharged after initial treatment, while the critically injured persons have been shifted to special ward.
The injured persons were identified as clerk Laiq Shah, assistant Hazrat, Nisar and another person.
The Hospital Director Khalid Masood said all facilities have been provided to the injured persons at the hospital.
Meanwhile, KP Information Minister Hasham Inamullah visited the Maulvi Ameer Shah Memorial Hospital and inspected the site of the incident. He directed the concerned authorities to submit a report about the incident within 24 hours. Director General Health Department Dr Arshid Khan and District Health Officer also accompanied the health minister to the hospital. The chief minister directed that all facilities be provided at the Maulvi Jee Hospital and problems of the hospital must be resolved on priority basis.