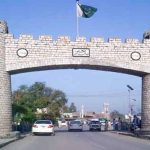 SEHWAN SHARIF: A horrific collision between a car and a truck at Super Highway claimed at least four lives on Monday morning.
According to rescue officials, the car collided with an incoming truck near Nooriabad, Super Highway, killing two people on the spot. The injured were immediately moved to a nearby hospital where two of them died during the treatment.
Doctors at the hospital said another injured was in a critical condition due to severe injuries.
Police said it appeared that the incident occurred due to speeding. Further investigation is underway.
In a fatal accident on Nov 7, at least eight people had lost their lives and 20 others including children and women were injured in a collision between a passenger bus and trailer near Indus Highway, Dadu.
The passenger bus was heading to Karachi from Larkana. Police said the fatal mishap occurred when both the vehicles tried to overtake each other amid intense fog.
According to an estimate, around 9,000 road accidents are reported every year in Pakistan, claiming more than 4,500 lives on average annually.