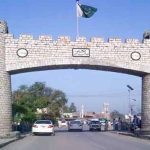 SARGHODA: At least four people were killed and 20 injured when a dumper truck collided with a passenger bus near Jhang Road in Sarghoda on Tuesday night.
According to the police, three children were among the injured.
The accident occurred 20 kilometers from Sarghoda on Jhang Road near norther 85 road.
The injured were shifted to DHQ Teaching Hospital for medical treatment. The injured have been identified as Mohammad Arabi, Asif Ali, Ghulam Rasool, Riaz, Faheem, Deen Muhammad, Sohail, Ashraf, Zafar Abbas, Imran, Qaiser, Adeel, Allah Datta, Saqlain, Saad, Sagheer, Mohammad Afzal among others.
In a separate incident, a truck overturned in Hyderabad's Latifabad number five area, killing a thirteen-year-old boy.
According to reports, the truck overturned due to a manhole on the road. However, rescue sources were able to pull out two children and a man who were stuck under the truck.