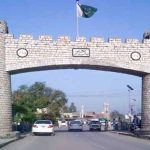 PESHAWAR: At least four people were killed during the last 24 hours in rain related incidents in Khyber Pakhtunkhwa
According to Provincial Disaster Management Authority (PDMA) three people were killed in Karak and one in Mardan. Five people have also been injured in these areas. Thirteen homes in Karak have been partially impacted by the rain.
PDMA said aid will be given to those impacted after a final report.