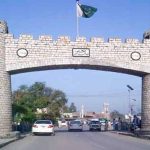 KABUL: At least four people were killed and another six injured after a suicide bomber targeted a convoy of security forces in Kabul early Tuesday, officials said, in the latest bloody Taliban-claimed attack in the Afghan capital.
The blast took place in Paghman district in western Kabul as the convoy was returning from an overnight operation, interior ministry spokesman Najib Danish told foreign news agency.
"It is still not clear whether the attacker was on foot or driving a vehicle," the spokesman added.
Another security official requesting anonymity said the assailant had used a car bomb to target the convoy.
Attacks on Afghan forces by the Taliban and the militants have been inflicting record-high casualties on security personnel this year.
Afghan security forces, beset by killings and desertions, have been struggling to beat back insurgents since US-led NATO mostly left them on their own three years ago.
US envoy Zalmay Khalilzad — who is currently canvassing the region to rustle up support for potential peace talks — expressed hopes that a deal to end the war could be struck before the Afghan presidential election scheduled for April.