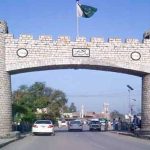 PESHAWAR: At least four people were killed over a dispute of a piece of land in Achinibala area of Peshawar here on Friday, police said.
According to police, two rival parties clashed over property dispute and resorted to firing. Four people including three brothers and a nephew were killed as a result of the firing. Police said that there was an old dispute on a piece of land between the two families.
Police has cordoned off the area and started investigation into the incident.