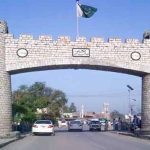 JHANG: Four young men belonging to the same family died Sunday night in a traffic accident when a semi-trailer truck rammed into their car near a toll plaza on Multan Road.
The deceased — all cousins — were identified as Mohsin Khan, Saqib Khan, Jabir Khan, and Sikandar Khan. All four died on the spot.
Rescue officials said the head-on collision occurred when the speeding truck crashed into the youths' vehicle.
The deceased cousins were residents of Jhang's Haveli Lal.