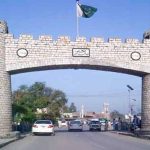 SRINAGAR: Indian troops in their fresh acts of state terrorism martyred four Kashmiri youth in Kulgam and Pulwama districts of occupied Kashmir on Tuesday.
During cordon and search operations, the troops killed three youth at Redwani in Kulgam and one in Tral area of Pulwama.
People took to the streets in Redwani and its adjoining areas and in Kulgam town and staged forceful demonstrations against the killing of the youth.
Indian police and troops fired pellets and teargas shells to disperse the protesters, triggering clashes between the demonstrators and the forces' personnel. Several protesters were injured during the clashes.
The occupation authorities have snapped the mobile internet services in the district while train service also remains suspended in the occupied territory.
The Hurriyat forum led by Mirwaiz Umar Farooq has asserted that India is carrying out selective and planned genocide across the territory.
The forum while paying tributes to the youth martyred by Indian troops over the past few days in the territory termed the killings as a planned genocide aimed at selective assassination of people especially the young lot which deserves highest form of condemnation.
"Kashmir especially youth are offering priceless sacrifices for the freedom struggle of the valley that has already thousands of sacrifices at its back and it is high time that the people of Kashmir show unity and steadfastness to take the present ongoing effort to its logical conclusion," the statement said.
The Mirwaiz-led forum denounced the use of brute force by Indian police and troops against peaceful protesters saying that the brute forces' personnel even didn't spare an eighteen-month-old, Hiba, and snatched her eyesight by showering pellets on her.