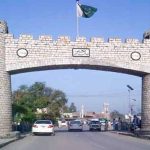 BATTAGRAM: At least four people were killed and two others sustained injuries when two groups opened fire at each other over a petty dispute in Danga district of Battagram.
Local police said that the incident took place when sons of two real brothers Abdul Latif and Abdul Jaleel opened fire at each other over a trivial issue.
Resultantly, four people were killed on the spot while two others received wounds who were shifted to hospital for medical assistance.
After the incident, police reached the spot and kicked off investigations.