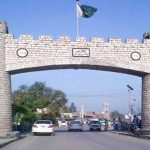 ISLAMABAD: Out of the six Pakistanis martyred in the Christchurch attacks, bodies of four of them are to be brought to Pakistan, as confirmed by Foreign Minister Shah Mehmood Qureshi.
FM Qureshi confirmed that bodies of four of the martyred Pakistanis will be brought to Pakistan upon the request of their families, while the remaining two martyrs will be buried in New Zealand, as requested by their relatives.
Qureshi further stated that the government will provide complete assistance and cooperation in the transportation process of the four dead bodies back to their home country.
Moreover, he stated that the three Pakistanis who still remain missing will be identified through DNA testing which would require some time.
Spokesperson of the foreign office, Dr Mohammad Faisal also issued a statement saying: "FM Qureshi has directed all possible help and assistance be extended to the familes of the deceased and missing #Pakistanis, in #NewZealand terrorist incident. #pakistanagainstterrorism."
Earlier during the Friday prayers, a white supremacist had opened fire at mosques in Christchurch and Wellington killing at least 49 Muslims out of which, six had been identified by the foreign office as Pakistani nationals.