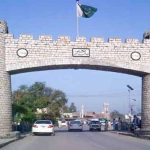 CHITRAL: Four persons were killed under heavy avalanche at Sheshi Koh valley near Gorain area.
According to Deputy Commissioner, four people have gone missing in an avalanche that hit them in a very far-off area of Shishi Koh valley on Saturday.
These were belongs to Gujar tribe and were on their way to carry their goats from pasture.
The four, including two real brothers, had gone to a grazing ground to bring their animals back when the avalanche hit the area.
They have been identified as Momin and Amir Zada, sons of Khaista Khan, residents of Shahinoor Shishi Koh, Saad Muluk son of Bahadar Khan and Usman Khan son of Gul Muhammad, residents of Kauti Arandu (near Pak Afghan border area).
The meadow is located at Goren Gol at the confluence of Dogdara, which touching the boundaries of Upper Dir and Chitral districts.
The teams including Rescue 1122 were sent to the area but it would take hours for them to reach there on foot.
According to Deputy Commissioner they have deputed Assistant Commissioner of Drosh and Additional SHO police station Drosh who reached there and supervising rescue operation.
But these four persons are still missing until filling of this report.