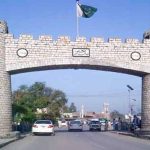 KABUL: Four security personnel were killed and twenty others were wounded in a car bomb explosion in Ghazni Province of Afghanistan here on Saturday morning.
The provincial police said blast occurred in Aband district when a suicide bomber driving a car full of explosives detonated his explosives near the first gate of the district building.
Taliban have claimed responsibility for the attack.