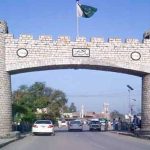 ISLAMABAD: Anti-Terrorism Court (ATC) on Tuesday granted bail to Pakistan Tehreek-e-Insaf (PTI) Chairman Imran Khan in four terrorism cases.
The ATC had reserved the decision a while ago and announced that it would be read shortly.
The cases included attack on parliament and Pakistan Television (PTV) building, and torture on SSP Asmatullah Junejo.
ATC Judge Shahrukh Arjumand heard the case while Imran Khan's council Babar Awan presented arguments in his client's defense.
The lawyer informed the court that 11 witnesses recorded statements before court in SSP torture case, and not even one was against Imran.
Awan stated that PTI chairman was not present on the incident spot when Asmatullah Junejo was tortured.
On the other hand, the prosecutor requested the court to reject Imran Khan's bail plea, and maintained that he provoked party workers to attack the police.
PTI chief earlier maintained that the cases lodged by government were politically motivated.
He had stated that protest was a legal and political right and not a crime.