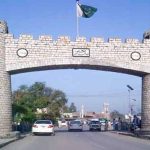 ISLAMABAD: Caretaker Minister for Information and Broadcasting Barrister Syed Ali Zafar has said first and foremost priority of caretaker government is to hold peaceful, transparent, free and fair elections on time.
In an interview with PTV, he said mandate of caretaker set up is limited in scope and is not long-term.
The Minister said in first cabinet meeting of caretaker government today, the Prime Minister said in clear terms that caretaker government will assist Election Commission of Pakistan for holding peaceful, transparent and timely election.
He assured that elections will be free, fair and transparent. He said level playing field will be provided to all political parties in the upcoming election.
He said under article 19 of the constitution, media should give space to everyone to air their views, by keeping in view certain limitations on integrity of state, religion, anti-army and judiciary, and indecent and immoral things.
He said all media organizations, including state run media outlets, should feel free to give equal air time to all the political parties and candidates.
Regarding the decision of Supreme Court on affidavit to be submitted with nomination forms, the caretaker minister said Supreme Court has given a very good solution to the problem in order to settle the issue without causing any delay in conduct of elections.
On delimitations issue, the Minister said there were three legal issues which were feared to delay elections including nomination forms, delimitations, and merger of FATA with KPK. He said the issue of nomination forms has already been solved.
Syed Ali Zafar said wrong delimitation will usurp the right of voter which is unconstitutional. He said delimitation is not a long process and it is not likely to impact the schedule of election. He said constitution has given clear roadmap for mergers and that is not a thing to worry.
On law and order situation, Syed Ali Zafar said there was a detailed briefing by Ministry of Interior today in which normal, sensitive and highly sensitive areas have been identified and steps will be taken accordingly to hold the elections trouble free.
He said we will also continue making consultations with Election Commission of Pakistan. He said, if needed, the armed forces will be called to assist in the election process.
The Information Minister said the trial against any political leader has nothing to do with election. Law should be equal for all and court decisions must be respected in order to raise the national prestige.
The caretaker Minister said the issue of load-shedding will be looked into depth and all relevant facts and figures will be put before the people, in order to give them a clear picture of the situation.
On a question regarding Financial Action Task Force, Syed Ali Zafar said our economy has great potential and that is why we want to take short term measures that could also help the coming governments.
The Minister said we will take steps that help Pakistan economy and also avoid the risk of going into grey list of FATF.
Replying to a question, the Minister said caretaker government will welcome constructive criticism and will ensure better coordination with provinces.
Regarding attack on media persons, Syed Ali Zafar said it is a condemnable act and provincial governments should take necessary measures to protect journalists.