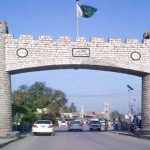 HARIPUR: A youth was allegedly killed by his friend over friendship dispute with a transgender person in Haripur Saturday night.
As per details, the unfortunate incident occurred at a guest house in the premises of the City Police Station.
According to police, both friends quarreled on the matter of friendship with a transgender. After exchanging harsh arguments, the alleged killer took out his pistol and opened firing on Hassan Shah, who died on the spot. The transgender yet to be identified.
Police shifted the body to the morgue and launched a hunt to chase the killer.